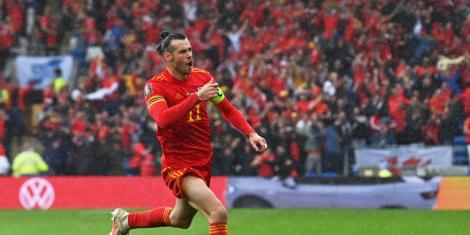 Wales gave another monumental performance to qualify for their first World Cup since 1958 on an emotional night in Cardiff City Stadium on Sunday, June 5.
Wales beat Ukraine 1-0 thanks to an own goal from Ukrainian winger Andriy Yarmolenko who headed a Gareth Bale free-kick into the net.
The Welsh team was banking on Gareth Bale to help end their long wait in playing the 2022 FIFA World Cup in Qatar.
Also Read: 2 KPL Matches Cancelled Over Broke Clubs
Ukraine dominated the game for the better part but a controversial penalty call from Burnley goalkeeper Hennessey kept them at bay.
Ukrainian defender Oleksandr Zinchenko had a goal disallowed after shooting from a free-kick taken too quickly.
Having beaten Scotland in an emotionally draining semi-final four days earlier, the Ukrainians - with the backdrop of their country's war with Russia - were deeply impressive once again but fell just short in their attempt to reach only a second World Cup in their history.
It is however a momentous achievement for Ukraine with half of their team never playing competitive football since the Russian invasion and the wounds of the war still fresh in their memories.
Both teams missed two potential goals with Bale wasting a golden opportunity in the second half and Welsh substitute Brennan Johnson hitting the post.
It was an emotional moment as Ukrainian players bowed to over 2000 fans who had come to cheer them at Cardiff.
Their Welsh competitors also joined to salute the Ukrainian players and fans to console them over the ongoing war in their homeland.
They have always missed the global tournament by a whisker after reaching the knockout stages in the recent years of the European Championship.
The Dragons have missed 15 World Cup tournaments since their last appearance in Sweden in 1958.