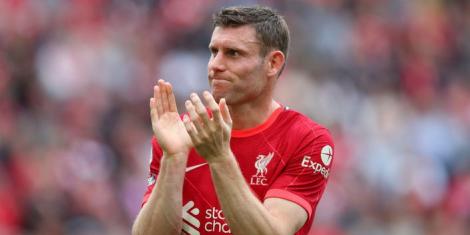 Veteran English midfielder James Milner has extended his stay at Anfield for the 2022/23 Premier League season.
Milner signed a new one-year contract with Liverpool on Monday, June 6, and hopes to help the club clinch the top Premier League spot from rivals Manchester City. 
The Red's vice captain's contract was set to expire this summer and he received multiple offers but opted to stay with the FA Cup winners.  
Also Read: Wales Make a World Cup Comeback after 64 Years
"Playing for a club like Liverpool makes that the case even more so and I'm so grateful for the opportunity to extend my contract for another year," Milner stated.
"An overriding feeling for me – and a vitally important one in the process – was the belief I can still contribute to the team. The gaffer was clear what he thought and that was a big factor in me extending my contract"
Since arriving on a free transfer in 2015, he has helped Jürgen Klopp's team win the Premier League, Champions League, UEFA Super Cup, 2022/23 season, Emirates FA Cup, and Carabao Cup.
At Anfield, the 36-year-old has made 289 match appearances 39 of which were in the last Premier League season in which the Reds finished second in the EPL with one point behind Man City. 
Red's manager Jurgen Klopp heaped praise on the English veteran for extending his contract. 
"I am delighted by this news. It's important for us – all of us," 
"A lot is often made of James' leadership skills and his influence in the dressing room, and of course, that's correct and justified, but nobody should overlook his quality on the pitch, where he continues to perform to a level that meant we simply couldn't afford to lose him" explained the German.
The number 7 declined an offer to join Steven Gerrard's Aston Villa and Newscastle who had offered to sign him on a free transfer.
He also rejected offers from the American Major League Soccer (MLS).