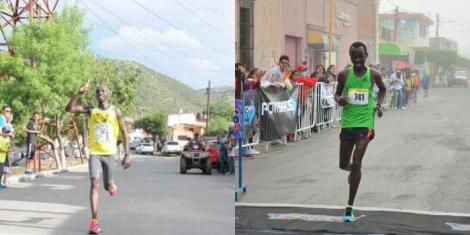 A Kenyan athlete, Rerimoi Barsitei, is reportedly being held at a prison in Mexico after being implicated in a kidnapping saga.
Speaking to NTV on Tuesday, June 14, the family explained that their son, who was the sole breadwinner, left the country in 2015 for greener pastures in Mexico.
Rerimoi moved to the foreign country to compete in small races and with the hope of making good fortunes in the North American country.
However, his plans to make money and support his siblings were ruined after he was implicated in a kidnapping ordeal in March 2021.
The athlete was reportedly detained by Mexican authorities and has not been released since then.
Speaking to NTV, his father, Sammy Chesang, explained that his son had left to compete in road races and left his friends in his Mexican house. After the race, the athlete was ambushed and implicated in a kidnapping case in which his friends were implicated.
"He had left a house for his friend and he went for a racing competition. So his friends involved themselves in a criminal activity and during the raid, he was arrested too and implicated in the case. He was later informed that he was part of a gang that kidnapped someone in Mexico," Chesang explained.
One year down the line, the family noted that they have been trying to reach out to Kenyan Embassy in Washington DC to help repatriate their son.
"I have sent a letter to Kenyan Embassy in Washington DC. I would like them to help us and go up to where he is being detained and help in repatriation," he stated.
He further complained that the Mexican authorities were postponing the case hurting his son's push to get justice.
"I have been in touch with my son throughout on Facebook and he has been updating me on what is going on. It is so sad that nothing has been done because Mexican authorities keep on postponing hearing of the case," he noted.
According to his mother, who last saw him seven years ago, Rerimoi was an obedient kid who had dedicated his life in supporting his siblings.
She noted that Rerimoi's arrest has stressed the entire family which is now appealing to the government to intervene and repatriate their son from Mexico.
"When my husband informed me of his arrest, I was so shocked and I went down on my knees, praying that nothing bad happens to him. He was a staunch Christian and would always attend church - the Reformed Church of East Africa," his mother told NTV.