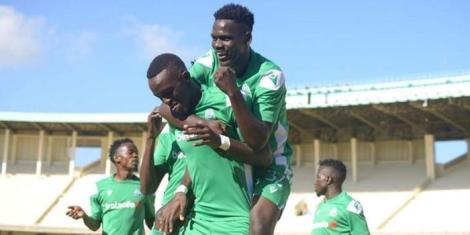 Football Kenya Federation (FKF) Premier League record champions, Gor Mahia, have sent an apology to the government following the confusion that stemmed from the remittance of Ksh1 million reward to the team after clinching the Madaraka Day Cup.
The reigning champions outsmarted their arch-rivals, AFC Leopards, through a post-match penalty shootout with a score line of 6 - 5 in an exhibition match that was played at Nyayo National Stadium.
Following their win, the government through the Ministry of Sports led by Cabinet Secretary Amina Mohamed, promised to give the team Ksh1 million and Ksh500,000 to their perennial rivals.
But Gor Mahia published a statement insinuating that they had not received the money in question.
However, in a signed letter by Gor chairman, Ambrose Rachier, dated Thursday, June 16, he stated that they are sorry for the misinformation.
"We refer to the statement by our Secretary General and published in the social media in which he indicated that the prize money had not been released to us 'under unclear circumstances' thus insinuating ill motive on the part of the government officer entrusted with the handling of the funds. We write to apologize to the officer(s) concerned for this statement and to confirm that as at the date of the publication of this statement, the chairman of the club had already been informed of the fact that the money in question had been deposited into our club account," read part of the letter.
Rachier's letter added: "We appreciate the good gesture of the government of the Republic of Kenya through the ministry of sports culture and heritage in organizing the above derby and giving us an opportunity to participate in such worthy cause. The prize money earned has indeed benefited the club, generally and our players and technical staff in particular."
According to the football club, they had not received the cash reward by June 1 forcing them to inquire from the Ministry of Sports.
The government through Ministry of Sports Principal Secretary, Mike Kimoko, demanded an apology from Gor Secretary General, Sam Ochola, for misleading the public in regards to the prize money.
"The money was wired directly to the respective club accounts on 3rd June 2022 at 12.00pm in line with government procedures against heated demand from some club officials that the payment should be in cash," Kimoko explained.
"Both the chairman of the two clubs were at all times briefed on the procedures of the cash prize payments and you as the chairman of Gor Mahia FC indeed confirmed the reflection of the cash prize amount in your club accounts on 6th June 2022."
Admitting the confusion, Gor apologised to the government and revealed that the reward money was critical in settling some financial needs of the club.