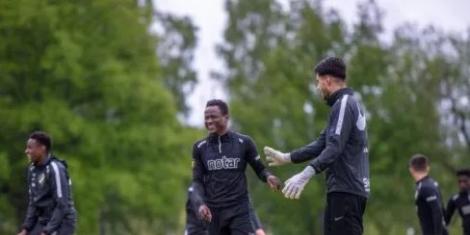 It is not every day that you find three Kenyan footballers, with a combined market value of over Ksh148 million, playing for the same European team. 
In the case of Eric ' Marcelo' Ouma, Collins Shichenje and Henry 'Meja' Atola, the trio is testing its mettle against top competition in Europe as they all play for Swedish giants, AIK Fotboll. 
In addition, all three players are Kakamega High School alumni- a school renowned for producing top stars. 
For Ouma, his dream of playing international football was shrowded in uncertainty as he grew up in Kibera Slums.
Also Read: CS Amina Extends FKF Transition Committee's Term 
However, the 26-year-old did not give up as he resorted to utilizing his skills on the pitch. 
"Just like most footballers, I had a lot of challenges growing up. I stayed in Kibera for over 19 years and the hustle was real. But I had to defy all odds to become what I wanted to be in life. We lacked a lot of basic materials and good facilities, but we had to use what we had in order to achieve our dreams," he stated during a past interview. 
After joining Kakamega High School, Marcelo capitalised on the opportunity, which earned him a spot at high-level competition such as playing for KPL giants, Gor Mahia, and representing his country at the 2019 AFCON finals in Egypt. 
Marcelo proceeded to play for big leagues in America and Europe such as Kolkheti Poti in Georgia, Albanian club KS Kastrioti, Swedish club Vasalund and finally AIK Fotboll. 
Shichenje
Collins Shichenje made headlines after he sealed a Ksh5.6 million deal from AFC Leopards to AIK Fotboll in May 2022. Prior to the mega-move, the 18-year-old was playing for Greece side PAOK Thessaloniki for six months before returning to AFC Leopards. 
The teenager was on AIK's radar which sought to capitalise on the midfielder's tactical skills. 
The Kakamega High School alumnus, who dons jersey number 29, can also play as a central defender. 
"Coming to AIK is like a dream for me. I could not have come to a better club at this stage of my career. I know both Otieno and Meja who play in the team and both have said very good things about the club to me," he stated during a recent interview. 
Meja
Dubbed Kenya's Marcus Rashford, Meja has received praise from his peers for his unique soccer skills.
Tipped to eventually play in England, the former Tusker FC player sought to extend his wings and ply his trade in international competition. 
In September 2021, the 20-year-old was unveiled by AIK as the latest footballer to sign with club with a reported Ksh16 million deal. 
"On September 3, 2021, AIK was able to present the news that forward Henry Meja had signed an agreement with the club valid from the start of the 2022 season until September 2026," read a statement from the Swedish club.