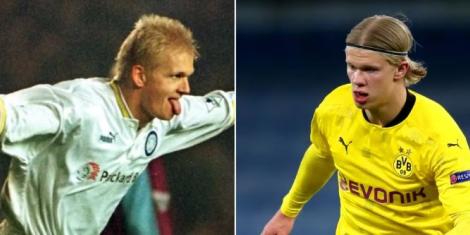 It is the norm for children to take after their parents' traits in a bid to continue the legacy. In football, the case is no different as notable players have taken a page out of their parents' playbooks and made waves on the international scene. 
From Manchester City ace Erling Haaland to Leicester City goalkeeper Kasper Schmeichel, the players are currently seeking to write their own history and surpass the expectations set by critics and pundits. 
TeamKenya.co.ke takes a look at five footballers who followed in their father's footsteps. 
Erling Haaland
The Norwegian footballer is no stranger to success as he dominated the Bundesliga league since his debut in January 2020. At the end of the 2021/22 season, Haaland had netted 85 goals in 88 games- proving to be a phenomenal force in the league.
In the ongoing transfer season, Haaland was signed by league winners, Manchester City on a Ksh7.3 billion deal. 
The move emulated his father, Alfie Haaland, who played for Man City from 2000 to 2002. Before retiring, Alfie had amassed 34 caps for Norway and had played for Nottingham Forest and Leeds United. 
Kasper Schmeichel
Kasper is a renowned goalkeeper in the English Premier League playing for Leicester City and the Denmark national team. He is the son of former Manchester United goalkeeper, Peter Schmeichel. 
Kasper began his career with Manchester City before being loaned to Cardiff City, Notts County and later Leeds United. In May 2010, he joined Leicester City on a successful spell that involves the EPL title in the 2015/16 season. 
His father, on the other hand, had a successful spell in Man United where he made a total of 292 appearances. 
Gio Reyna 
Claudio Reyna is a renowned player who is remembered for steering the United States men's national team in the 2006 FIFA World Cup. He had successful spells in clubs such as Rangers, Sunderland, Manchester City and New York Red Bulls. 
His son, Gio Reyna has impressed critics and pundits with his prowess as an attacking midfielder for Borussia Dortmund. 
The 19-year-old currently dons the number 7 jersey and is a highlight reel on the pitch, according to international news outlets. 
Federico Chiesa
Son to legend, Enrico Chiesa, Federico is a force to reckon with on the pitch. Playing for Italian giants, Juventus as a winger, he has made 153 appearances and scored 34 goals across all competitions. 
The 24-year-old has helped his team win the Coppa Italia and Supercoppa Italiana in his first season at the club. His father has played for clubs such as Sampdoria, Parma, Fiorentina, Lazio, Siena- making a total of 557 appearances and netting 203 goals in his career. 
Giovanni Simeone
Diego Simeone is hailed as a no-nonsense manager by many players who have sat under his learning tree. The Atletico Madrid don has established himself among the legendary managers with eight trophies under his belt. Prior to coaching, Diego played for the Argentinian national team, amassing a total of 106 caps. 
His son, Giovanni, plays for Serie A club, Hellas Verona. The 26-year-old, nicknamed El Cholito, has scored an average of 0.57 goals every 90 minutes, placing him 11th position out of 465 players in the Italian league.