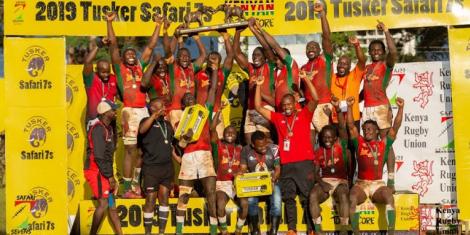 This year's Safari Sevens will run from October 14 to 16 at the Rugby Football Union of East Africa (RFUEA) ground. 
The Kenya Rugby Union (KRU) Chairman Oduor Gangla gave the announcement on September 22, during the tournament's official media launch. 
Oduor noted that the venue of the event will change from the Nyayo National Stadium to the RFUEA grounds.
Also Read: Training Squad for Simbas Final Rugby World Cup Qualifier Unveiled
"Anyone who has been to a rugby match in Kenya knows that there is no place like the RFUEA. We wanted to go back to that environment to make it fun, make it enjoyable and competitive.
"We have 12 men and six women teams as well as the age grade and vets (0ver 35) categories. It will be a great weekend of rugby," Oduor stated. 
The 25th edition of the tournament will involve three categories — veterans, age grade and the main event, with the main event featuring 12 men's and six women's teams. 
Kenya will be represented by three teams Kenya Shujaa (defending champions), Kenya Morans and Menengai Oilers. 
Oduor also noted that being an election year it was not possible for them to organize the event to their liking however they were able to get many teams on board.  
"This being an election year, it was not possible to pull off an event we would have loved but still it's encouraging that we have managed to get many teams engaging us," Oduor added. 
KRU Vice Chairman Moses Ndale, who is also the Safari Sevens Organizing Committee Chairman asked fans to show up in large numbers as they will enjoy a great weekend of rugby. 
The RFUEA Ground has been the home of the tournament from 1996 until 2010 before being moved to Nyayo Stadium for the 2011 and 2012 editions. 
The venue was later shifted to the Moi International Sports Center for editions between 2013 and 2016. 
In 2017 the tournament did not take place however the 2018 and 2019 editions took place at the  RFUEA Ground.
Also Read: Kenya Rugby Union Elects New Officials