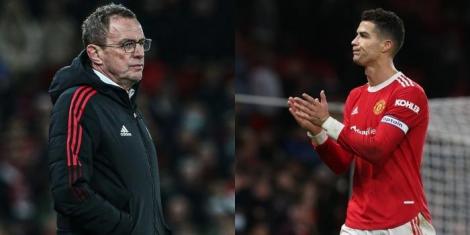 Ralf Rangnick was forced to explain to Cristiano Ronaldo why he was substituted after the forward questioned his decision during Manchester United's win at Brentford.
On January 19, United visited Brentford Community Stadium where they emerged victorious with a 3-1 with goals from Anthony Elanga, Mason Greenwood and Marcus Rashford before Ivan Toney got a late goal back for Brentfoed.
Ronaldo was taken off when United were 2-0 up and the 36-year-old was visibly unhappy when sitting next to Rangnick.
Manchester United interim boss Ralf Rangnick defended his decision to substitute Ronaldo after the Portuguese showed his disappointment.
"I have to make decisions in the interests of the team and club. We had the same situation at Aston Villa when we were 2-0 up in the second half and I didn't want to make the same mistake.
"So tonight I put on Harry Maguire, went to a back three, and a fast winger, Marcus Rashford. It was the right decision.
"Cristiano is a goalscorer but it was more important to be compact at this moment. When we scored a third I said this exactly to him: 'I know you're ambitious to score but maybe in two years' time when you are a head coach like me and in the same position you'll understand.
"I didn't expect him to hug me after being substituted. I have no issues whatsoever with Cristiano. I've been here six weeks and never had any issue with him – none whatsoever," Rangnick pointed out.
The win took United to 35 points, two behind West Ham who are fourth in the league, having played a game less, although Spurs and Arsenal are in between.
Manchester United will be facing Westham next for a premier league clash  at Old Trafford on January 22.