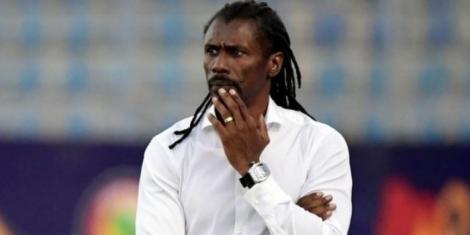 Aliou Cissé was born in  Ziguinchor, a town in the South-Western region of Senegal on March 24, 1976, before his family emigrated to France.
Cissé was then a 9-year-old boy. He grew up dreaming of playing for Paris Saint Germain (PSG) as a midfielder and centre back.  
The Senegalese manager, however, began his career at Lille as a teenager before joining the oil-money PSG. 
He played 43 matches for the French club from 1998 to 2002. Afterwards he went to the Premier League where he fetured for both Birmingham City and Portsmouth.
During his playing time for Senegal he was the team's captain leading his country to the 2002 World Cup semi-finals.
Later in 2006 Cissé returned to Sedan FC in France, before ending his career at Ligue 2's Nîmes in 2009.
After ending his playing career Cissé enrolled for coaching classes and later rose to be the assistant to Senegal Olympic team manager Karim Séga Diouf.
He was, later on, appointed Senegal youth manager, leading the team in the 2013 Francophonie Games.
In 2015, Cissé was appointed the Taranga Lions manager replacing Frenchman Alain Giress after they exited that year's CAN at group stage level.
His appointment was termed as the Senegal fans' choice as they wanted a local to manage their team.
Cissé's playing and coaching style is often likened to that of Didier Deschamps – the France manager. The Senegalese manager often uses  4-2-3-1 formation which has been key to Senegal's success.
As the team manager Cissé has achieved 40 wins, 14 draws and 8 losses in 62 matches. During his tenure Senegal have climbed up the FIFA rankings, becoming the highest-ranked African side at 20th place.
Cisse who missed a spot-kick in the AFCON 2002 Finals hopes to lead his country to lift the coveted trophy in the 2021 edition in Cameroon this year. 
Senegal is through to the final as they will face either Cameroon or Egypt in the AFCON 2021 finals.