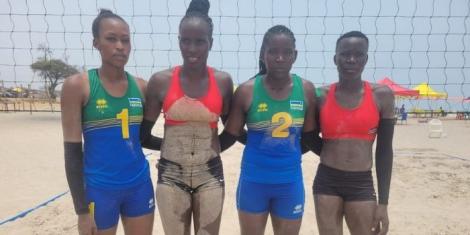 Kenya's men's and women's beach volleyball teams failed to book a slot in the upcoming Commonwealth Games. 
Both teams were eliminated from contention for the Commonwealth Games slot after losing their semi-final matches.
Kenya women's beach volleyball team suffered a defeat to Ghana before playing for third place where they defeated Rwanda. 
The pair that was representing Kenya in the women's team was the duo of Naomi Too and Veronica Adhiambo. 
Also Read: 15 Most Googled Names In Sports 
Despite their elimination both Too and Adiambo won all their group matches. 
As for Kenya's male beach volleyball team, they managed a fourth-place finish after losing to South Africa in their last four matches. 
The men's team was represented by Ibrahim Oduor and James Mwaniki who won one match in their group stage. 
Despite winning a single match both Oduor and Mwaniki managed to reach the quarters. 
According to the Kenyan men's team manager Sammy Mulinge, the team had positive performances despite the exit.  
Mulinge noted that beach volleyball is getting more recognition and soon enough the Kenyan teams will dominate Africa. 
There was one ticket left for grabs in order to qualify for the CommonWealth games thus the winner only gets to represent Africa.