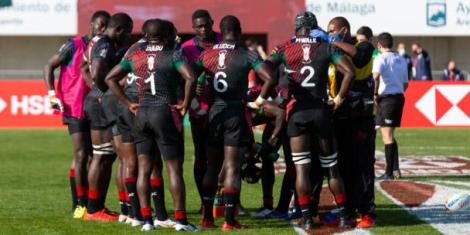 Shujaa suffered their second defeat at the Singapore 7s World series after they lost to South Africa by 26-5. 
The Kenya 7s rugby team, who were the 2016 winners at the Singapore 7s, handed the Springboks their 36th consecutive win in the series. 
Three minutes into the match Kenya was trailing 19-0 with the first half ending with South Africa with a Lead.
Also Read: Shujaa Suffer Loss in Singapore 7s Opener
As soon as the second half started the Springboks made a try and scored their conversion leading 26-0 before Kenya's Alvin Marube grabbed Shujaa's consolation try. 
This was Kenya's second Pool A match after suffering a 12-10 close defeat to the USA in the opening match. 
The Springboks have now qualified for the quarters while Shujaa are out of the quarterfinal contention.  
Kenya is set to face Canada in the last Pool A match at 2:05 PM on April 9 at National Stadium in Singapore. 
Only New Zealand is the only squad that has won more matches in a row (47) in 2007/2008 than the Springboks at 36. 
In the other Pool, A match the USA handed Canada their second defeat with a 33-12 scoreline. South Africa tops the table with six points. 
The USA are second with six points, Shujaa comes in third as Canada are bottom of the Pool A group.
Also Read: Kenya Ranked Eighth Ahead of Singapore 2022 World 7s Series