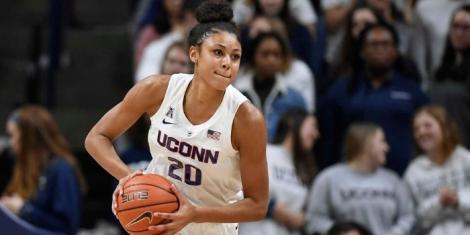 Olivia Nelson Ododa, the daughter of former Kenya Morans, Sebastian Ododa was on Monday, April 11, selected in the second round of the WNBA draft. 
Nelson-Ododa was taken 19th overall in the second round by the Los Angeles Sparks, who are the three times WNBA Champions. 
After the draft, the LA Sparks coach, Derek Fisher, noted that Ododa's addition to the team is a big boost to the side as it chases the championship.
Also Read: Victor Wanyama's Little Known Sister Excelling in Europe
"I think with Olivia, it's the consistency she has shown throughout her career in terms of getting better each year. 
"When you play at a high-level program the way she has over the last four years, going to four consecutive Final Fours, she has played a lot of basketball. 
"She's all about winning, and that's what we want to continue to build in LA," Fisher stated. 
In the last season, Ododa - who played both as a forward and centre - averaged 9.2 points, 7.5 rebounds and 3.5 assists for UConn. 
Ododa was named the Big East Co-Defensive Player of the Year in 2020-21 and was also in the 2022 All-Big East First Team selection. 
The 21-year-old will look to establish herself in the WNBA with her prowess in the defensive part of the court. 
She is part of the trio of UConn women's basketball players like Christyn Williams and Evina Westbrook who were drafted in the second round of the WNBA draft. 
Williams was the first after being taken at 15th overall by the Washington Mystics as Westbrook came in at 21st to the Seattle Storm.
Also Read: From an Iceberg Pool to a Basketball