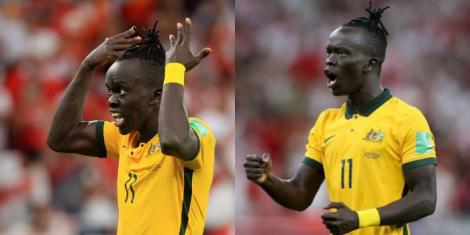 Awer Mabil, an international footballer who was born in a Kenyan refugee camp, has made headlines following his decisive penalty against Peru that saw Australia book a spot in the upcoming Qatar 2022 World Cup scheduled to start November 21.
Mabil was tasked with delivering the decisive penalty during the spot-kick against Peru. The 26-year-old scored the sixth spot kick and watched as Australia's goalkeeper, Andrew Redmayne save Peru's final penalty.
Before taking that decisive penalty, his story was not that much known but now he has busted into fame being considered one of Australia's sports heroes. The penalty completed his journey from a Kenyan refugee camp to a global football showpiece.
Growing up, he was forced to stay alone and survive on one or even with no meal at all. His parents had fled the conflict in Sudan and the Kenyan government accepted them and resettled them in Kakuma.
At the refugee camp, Mabil started honing his football skills even though he lacked exposure and even facilities to explore more.
In 2006, Mabil received a rare chance to travel to Australia where he was accepted and resettled still as a refugee. He capitalised on that opportunity to develop the football skills that earned him a spot in Adelaide United then later moved to Denmark's FC Midtjylland.
Speaking after booking Australia a spot in the Qatar world cup, Mabil noted that he decided to take the decisive penalty to show his appreciation for the country which accepted him and all his family.
"I was born in a hut, a little hut. My hotel room here is definitely bigger than the hut we had as a family in that refugee camp," he stated in post-match interview.
"For Australia to take us in and resettle us, it gave me and my siblings and my whole family a chance at life.
"That's what I mean by thanking Australia for that chance of life, that chance of opportunity they allowed my family," Mabil stated.
He further explained that he hopes his achievement will inspire other refugees to dare to dream.
"I scored, a lot of my teammates scored, everybody, played a part, and maybe that refugee kid played a big part," he stated.
Right now, the Kenyan refuge is on loan to a Turkish side Kasimpasa. He now hopes to represent the country during the Qatar world cup scheduled to start on November 21.