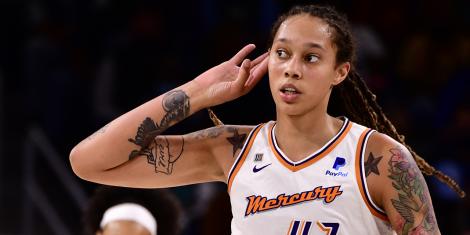 USA basketball star Brittney Griner was sentenced to nine years in prison after a Russian court found her to be guilty of deliberately bringing cannabis-infused vape cartridges into Russia. 
Reports suggest that her sentencing could pave the way for the USA to offer a swap to Russia, releasing an imprisoned Russian arms dealer for the freedom of Griner.
Griner earlier pleaded with a Russian judge not to sentence her with a harsh prison sentence for bringing the illegal item as she broke down to tears in court.
Also Read: Russia Sets Outrageous Conditions to Release Detained US Basketball Star
The 31-year-old basketball star was detained at Moscow's Sheremetyevo airport on February 17 with vape cartridges containing hashish oil in her luggage.  
She pleaded guilty, noting that she had a doctor's prescription for medical cannabis and had no intention of taking a banned substance to Russia or hurting anybody. 
"I made an honest mistake and I hope that your ruling, doesn't end my life here. 
"My parents taught me two important things: one, take ownership of your responsibilities and two, work hard for everything that you have. That's why I pled guilty to my charges," Griner stated in court. 
According to the US State Department, the 31-year-old was wrongfully detained with her lawyer adding that during her detention in February, she was tested for drugs and was clean. 
The basketballer's family, supporters and teammates have continued to express messages of solidarity to her as they wait to see what happens next.
Also Read: Russia Issues Update on Detained American Basketball Star