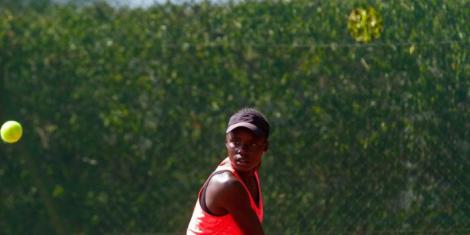 Angela Okutuyi broke into the limelight in July 2022 when she became the first Kenyan to win a Wimbledon title.
Okutoyi who partnered with Dutch player Rose Marie Nijkamp, whitewashed the Canadian duo of Kayla Cross and Victoria Mboko in straight sets of (3-6, 6-4) to win the girls under 18 title in a match held at All England Club, in London, United Kingdom.
The remarkable performance at Wimbledon made her a household name and inspired many young girls, among them Roselida Asumwa - Okutoyi's twin sister.
Also Read: Matasi: I Would Rather Remain Inactive Than Play For Tusker
Asumwa is also a tennis starlet in the making. She has been playing tennis alongside Angela since the age of four.
Roselida, who is ranked fourth nationally has represented Kenya in various tennis tournaments including the Fed Cup.
She has previously won a number of local and international tournaments including the International Tennis Federation (ITF) under 18 doubles  title. 
Asumwa only managed to play one game this season due to academic engagements. She sat for her Kenya Certificate of Secondary Education (KCSE) in March 2022.
The ever-smiling teenager revealed that Okutoyi always inspires and pushes her to the limit.
Also Read: Kenyan Athlete's Gesture to Colombian Boy Goes Viral
"Angela inspires me to do well and to be serious in my training. She also pushes me to the limit by telling me to be serious in my training and put in more hard work," stated Asumwa.
Roselida added that her twin sister encourages her to give her best when she goes for tournaments.
"Also, when I go to tournaments, Angela always encourages me to do my best even though my opponents are tough," she added.
Okutoyi and Asumwa were awarded a three-year club membership earlier this week by the Karen Country Club - one of  the leading country clubs in Africa.
The duo were joined by their uncle Allan Atola and grandmother Mary Ndong'a during the award ceremony.
Also Read: Lewis Hamilton Concludes His Kenyan Tour by Visiting West Pokot