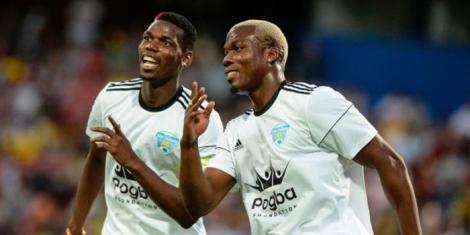 Paul Pogba's brother Mathias has been detained by French authorities who accused him of extortion, as per multiple reports. 
The suspect reportedly presented himself to investigators on September 14 and was later placed in custody. 
Mathias was detained together with three other people. In France, temporary detention usually lasts for 24 hours.
Also Read: Pogba's Brother Accuses Him of Using Blackmagic Against Mbappe  
Anti-corruption started investigations into the attempted organised extortion began in August 2022. 
The Pogba family drama came into the limelight when Mathias, through a video he posted on social media, accused his younger brother Paul of practising witchcraft on Paris Saint-Germain and France forward Kylian Mbappe. 
Matthias had threatened to expose his brother, claiming that he had more 'explosive' secrets about the Juventus star. 
Paul Pogba, through his lawyer, argued that Mathias was part of a criminal gang who were trying to extort him. 
"The videos are unfortunately no surprise. They are in addition to threats and extortion attempts by an organized gang against Paul Pogba. 
"The competent bodies in Italy and France were informed a month ago and there will be no further comments in relation to the ongoing investigation." read the statement signed by Paul Pogba and his mother Yeo Moriba. 
Paul Pogba is currently recovering from knee surgery and is expected to be out for nearly two months. 
Also Read: Paul Pogba's Brother Threatens to Expose Him, Mbappe in Online Video