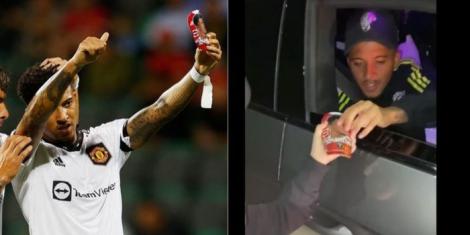 Manchester United forward Jadon Sancho explained the reason for his shinpad celebration after scoring in Manchester United's win in UEFA Europa League. 
The Red Devils defeated Sherrif Tiraspol 2-0 in their Group E match on Thursday, September 15.  
Sancho scored the opener for the Red Devils, with Cristiano Ronaldo scoring the second goal to seal their win at the Zimbru Stadium in Chisinau, Moldova.
Also Read: Ancelotti on Why He Is Likely to Retire Because of Real Madrid Star 
After the match Sancho revealed that he took off a single shinpad and held it up to the crowd after his goal to show a young fan that he wore them. 
"He gave me some shinpads and he asked me to wear them, so it was a gesture from me to show I was wearing them," Sancho stated after the match. 
On Friday 9, 2022 after training the Manchester United winger stopped to sign autographs for a group of United fans where he interacted with the fan who handed him a pair of special shinpads that displayed his face and name. 
Sancho promised the fan that he would wear them for an upcoming game. 
The 22-year-old Red Devil star added that the win was important for the team after their last loss to Real Sociedad at Old Trafford.  
The England international has had a good start to the season and his goal against Sherrif was his third goal in eight matches. 
Despite being in good goalscoring form, Sancho missed out on England's Nations League squad named manager Gareth Southgate on Thursday, September 15.
Also Read: Messi Overtakes Ronaldo, Sets New Champions League Record