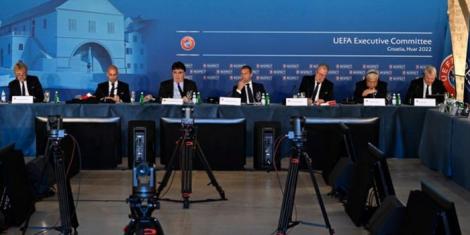 Russia has been excluded from the upcoming qualifying draw for the 2024 European Championship in Germany. 
UEFA confirmed the exclusion of Russia from the list of the 53 teams drawn as they announced the qualifying system of the EURO 2024 tournament. 
The decision was ratified after the UEFA Executive Committee meeting on September 20, in Hvar, Croatia.
Also Read: Suspended Keita Balde to Miss World Cup
"All Russian teams are currently suspended following the decision of the UEFA Executive Committee of February 28 2022, which was further confirmed by the Court of Arbitration for Sport on July 15, 2022. Russia is therefore not included in the UEFA European Football Championship 2022-24 qualifying draw," part of the statement read. 
Since the Russian invasion of Ukraine in February 2022, FIFA and UEFA banned Russia's national teams and clubs from competing in any continental or international competitions. 
UEFA had earlier confirmed that Russian clubs would be excluded from competing in their tournaments in the 2022/2023 season. However, they had not indicated whether they would miss the Euro 2024. 
In the meeting, it was also decided that Germany would not take part in the qualifying draw as they qualify automatically as the UEFA EURO 2024 host association team. 
The qualifying draw will include 53 national associations, which will allocate the participants to ten groups (seven groups of five teams and three groups of six teams). 
Both group winners and the runners-up will qualify for the final tournament. Play-offs will be played in March 2024 to fill the remaining three places. 
"The 53 participating teams are seeded according to the overall 2022/23 UEFA Nations League rankings and divided into seven pots," the statement read.
Also Read: French Federation Responds to Mbappe Photo Shoot Drama