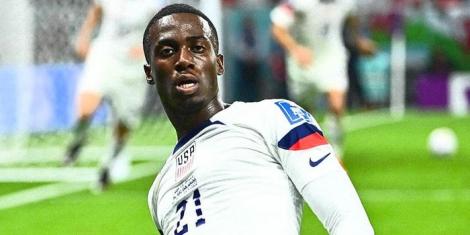 Timothy Weah scored his first goal at the FIFA World Cup tournament to help the United States bag a crucial point on Monday, November 21, 2022.
Timothy, who is the eldest son of the current head of state of Liberia and one-time Ballon d'Or winner George Weah, found the back of the net in the 36th minute after receiving a pinpoint pass from Chelsea ace Christian Pulisic.
The Wales national team managed to find a late equalizer in the 82nd minute courtesy of pacey forward Gareth Bale. They were making their first appearance at the competition since 1958.
Also Read: Qatar World Cup: Son of African President Among USA's Youngest Squad
Tim was born in New York and was introduced to the beautiful game by his mother Clar Weah.
The 22-year-old made his national team debut in 2018 and is hailed as one of the highest-rated forwards in the US. He currently plays for French Ligue 1 side Lille.
After netting the ball, Timothy's father, who was in the stands to watch him lead the United States attack on the biggest stage in world football, was gratified by his son's prowess. 
George had earlier affirmed that he would spend nine days in the tiny Gulf nation to support his talented son.
The controversial African leader came under heavy criticism recently for making numerous trips abroad. 
Although George, who is one of the greatest players to have ever emerged from the African continent failed to grace the world cup, he managed to score 16 goals for the Liberian national team in 60 appearances.
The 56-year-old played for top European nations including AC Milan, Chelsea, and Manchester City.
Also Read: African Legends Who Never Represented Their Countries at World Cup