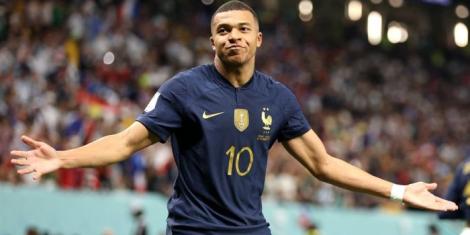 Kylian Mbappe helped Olivier Giroud equal Thierry Henry's international goal-scoring record on Tuesday night, November 22, 2022, at the ongoing Qatar World Cup.
The Paris Saint Germain forward played a crucial role in both of Giroud's two goals as the defending champions France thrashed Australia 4-1.
Mbappe's first contribution came in the form of a delicious backheel to Juventus midfielder Adrien Rabiot, who then delivered a cross into the penalty box, allowing Giroud to tap in his first goal in the 32nd minute.
Also Read: Herve Renard: Saudi Arabia Coach Who Made History in Qatar
Midway into the second half, the 23-year-old sprinted down the left wing, and beat a defender, before delivering a pinpoint cross that was headed in by the 36-year-old centre-forward.
The two goals ensured Giroud, who is one of the most underrated strikers of his generation, matched Henry's national team record of 51 goals.
Giroud is seeking to lift his second FIFA World Cup trophy. 
He first laid his hands on the coveted trophy in 2018, despite featuring only for a few minutes during the entire tournament.
Mbappe and Adrien Rabiot scored the other two goals for the French national team while Craig Goodwin was on the scoresheet for the Australians.
Should Giroud score another goal in France's next two games, he will become the nation's all-time scorer, an incredible feat for a player who has been criticized by many people in the past including some of his teammates.
The Les Bleus are scheduled to play their next game on Saturday, November 19, before ending their group stage campaign against African representatives Tunisia, on Wednesday, November 30.
Also Read: Enrique Márquez: Meet 88-Yr-Old Journalist Who has Covered 17 FIFA World Cups