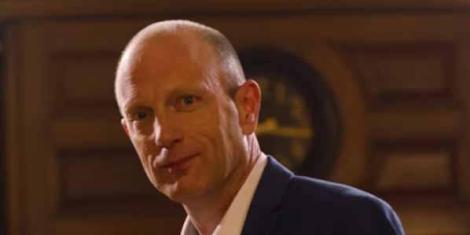 Renowned football commentator Peter Drury has revealed that he will never forget Victor Wanyama's Premier League goal against Liverpool. 
The legendary commentator who is in Qatar for the World Cup made the remarks while speaking to Kenyan journalist Isaac Swila-Tijan on November 23. 
The Kenyan sports journalist to engaged the commentator moments before Belgium, Canada kick-off, as he shared his message for his fans in Nairobi.
Also Read: Kenyan Comedian Arap Uria Lands FIFA World Cup Project After Mimicking Peter Drury
"Kenyan fans just keep enjoying the game and I will never forget Victor Wanyama's goal at Anfield," Drury revealed. 
This is not the first time Drury is sending a message of goodwill to Kenyans. He previously sent a message to Arap Uria, who went viral after mimicking the top-rated football commentator. 
Drury through a past interview on Super Sport  encouraged Uria to invest heavily into what he loves doing.
The 55-year-old sports commentator was in the commentary box during the Belgium 1-0 win over Canada. 
Drury also insinuated that Belgium is among the World Cup favourites. 
The FIFA World Cup Committee Qatar 2022 has so far provided some shocking results with Saudi Arabia defeating Argentina and Japan beating Germany. 
Drury also noted that England is always a potential World Cup winner among seven to 10 other teams.
Also Read: Peter Dury Sends Special Message to Kenyan Fan After Viral Video