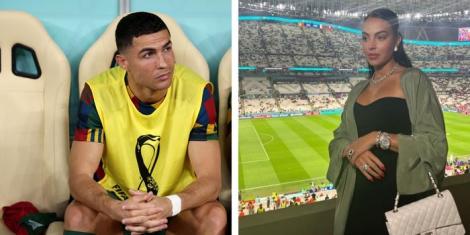 Cristiano Ronaldo has continued to hit the headlines for his actions off and on the field. 
During Portugal's round of 16 wins against Switzerland on December 6, the 37-year-old forward was benched by coach Fernando Santos. 
However, Ronaldo joined the match during the 73rd minute, with the game ending with a 6-1 win over the Swiss.
Also Read: Richarlison Overwhelmed After Meeting Ronaldo, Shows Him to Dance
The benching of the forward did not go well with his girlfriend, Georgina Rodríguez, who hit out at Portugal's manager in her Instagram post. 
"Congratulations, Portugal. While the 11 players sang the anthem, all eyes were on you. What a shame not to have been able to enjoy the best player in the world for 90 minutes. 
"The fans did not stop asking for you and shouting your name. May God and your dear friend Fernando continue hand in hand and make us vibrate one more night," her caption read. 
After the match, Ronaldo posted on his socials praising the team for the good performance. 
"Amazing day for Portugal, with a historic result in the biggest contest in world soccer. Luxury exhibition by a team full of talent and youth. Congratulations to our national team. The dream is alive! To the very end! Come on, Portugal," Ronaldo's Instagram post read. 
After the match, Portugal's head coach Fernando Santos confirmed that his relationship with Ronaldo was still intact despite dropping him from the starting line-up against Switzerland. 
Portugal's next hurdle will be against the only left African representative in the World Cup, Morocco, on Saturday, December 10, for a slot in the Semifinals.
Also Read: Sterling Returns Home After Armed Robbers Attacked His House