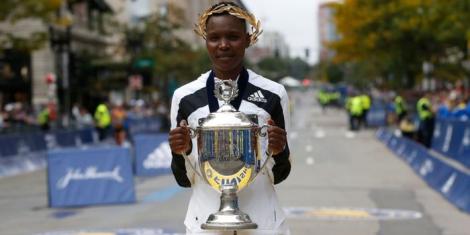 2021 Boston Marathon winner Diana Chemtai Kipyokei lost a whopping $150,000 (approximately Ksh18.5 million) after the Athletics Integrity Unit (AIU) banned her for six years due to doping.
The Kenyan runner reached the tape at 2:24.45 ahead of fellow countrywomen Edna Kiplagat and Mary Ngugi in a race held on Monday, October 11, 2021.
Kiplagat and Ngugi crossed the finishing line in 2:25.09 and 2:25.20 respectively in a closely contested road race.
Also Read: Anti-Doping Body Flags Kenya After 10 Athletes Are Banned
However, AIU announced on Tuesday night, December 20, 2022, that Chemtai had been sanctioned.
"The Athletics Integrity Unit (AIU) has banned two Kenyan marathoners - Diana Kipyokei and Purity Rionoripo - for six years and five years respectively for violations of the World Athletics Anti-Doping Rules (ADR), following thorough investigations which led to doping and tampering charges against both athletes," a statement from AIU read.
As a result of Diana's embargo, Kiplagat would receive the winner's prize money while Ngugi is set to pocket $75,000 (approximately Ksh9.3 million) meant for the runner-up in last year's edition.
"The Boston Athletic Association (BAA) has received the Athletics Integrity Unit (AIU) update in regard to Diana Kipyokei's sanction. As a result of the completion of the adjudication process, Diana Kipyokei's result in the 2021 Boston Marathon has been disqualified. 
"The B.A.A. is in the process of adjusting race rankings and will provide prize award adjustments to top finishers of the 2021 event. 
"Edna Kiplagat of Kenya has been elevated to women's open division champion of the 125th Boston Marathon and is now recognized as a two-time Boston winner (2017 and 2021)," a press release from the organisers read.
Another Kenyan athlete, Monicah Ngige, who registered a fourth-place finish at the event has now been elevated to the second runner-up and is thus expected to receive $40,000 (approximately Ksh4.9 million) in prize money.
2022 has been one of the worst years in the history of Kenyan athletics. 
More than 50 runners have been sanctioned because of doping, with five athletes being handed lengthy bans this week alone.