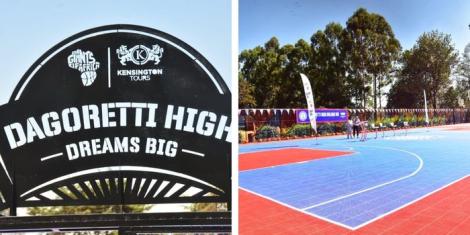 Toronto Raptors and Giants of Africa President, Masai Ujiri opened two state-of-the-art basketball courts at Dagoretti High School. 
The event on Friday, January 20, was also graced by the Member of Parliament John Kiarie, who praised the initiative by Ujiri. 
"A great investment in Dagoretti High School which has over the years built a reputation as Kenya's Talent Academy winning BiG at the Festivals in Drama and Music and also becoming National and East Africa Champions in Rugby, Football and Basketball," the MP stated.
Also Read: How Okal Helped Kenyan Star Felmas Koranga Land USA Scholarship
In his statement, Ujiri was thankful to the people of Dagoretti and everyone who was part of the project. 
"What you see here is a big call to all the campers and young players to dream big," Ujiri added. 
Construction of the basketball courts began in June 2022, with the end product being two new standard basketball courts adjacent. 
The courts also have a protective fence around them with a visible banner reading 'Dagoretti High Dreams Big.' 
Also visible at the centre of the courts is the name 'GIANTS AFRICA'. 
Dagoretti Mp John Kiari also noted through the project that Masai has shown the importance of investing in one's community. 
Also sharing his delight was Dagoretti High School games master and basketball coach Maxwell Okuna who noted that Masai's act of selflessness was beyond imaginable.
Also Read: Ex-Refugee Credits Kenya for Shaping Her Career as Toronto Raptors Recruiter