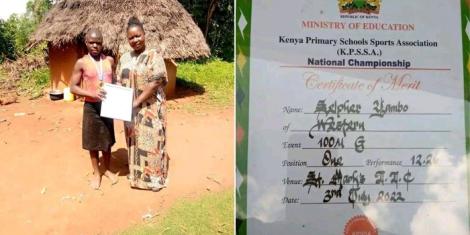 Sports CS Ababu Namwamba came to the aid of Selpher Ajiambo, a Primary School girl, who was short-changed by Kenya Secondary Schools Sports Associations officials in November 2022.
Ajiambo, who bagged the 100m national title during the school games, qualified to represent the nation at the East African Championships that took place in Rwanda but was denied the lifetime opportunity by some greedy officials.
According to Obuyu Nalo, the journalist who brought to light Ajiambo's predicament, the talented girl's slot was given to another person.
Also Read: From Orphanage to Tennis Stardom: The Story of Angella Okutoyi
"Selpher, a pupil at Sigalame Primary in Funyula sub-county, managed to pull through all categories from the lowest up to the county's top level and still managed to defeat all odds and emerged the best in the 100m race.
"With full hopes of representing Kenya in regional games in Rwanda, Selpher and her teachers continued training and preparing for the big day," Onalo revealed then. 
However, as days went by, Onalo noted that worries started building up as the poor girl from Sigalame failed to get any communication over the planned trip to Rwanda.
"Her headteacher tried her level best to follow up on the matter but somehow lost track. Seemingly, the poor girl with talent without a Godfather was shortchanged and replaced by the highest bidder," the journalist ended. 
Ajiambo's heart-breaking experience went viral and touched most individuals including the Sports CS. 
On Monday, January 23, 2023, Namwamba divulged that the girl has been offered a full education scholarship and an opportunity to sharpen her sprinting talent. 
"We heard about Selpher Ajiambo's case, and we acted. The Kenya Academy of Sports has granted Selpher a full scholarship at Nangina Boarding Primary School.
"While Athletics Kenya is ready for her to participate in national trials in her 100 meters specialty. No talent will go to waste under our watch," he ended.
Also Read: Kenyan Athletes Who Dropped Out of School and Found Success