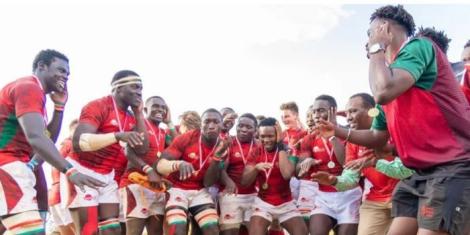 Kenya is scheduled to host the World Rugby Under 20 Trophy tournament this year.
The world governing body confirmed on Thursday, January 26, that the event will begin on Saturday, July 15, and end on Sunday, July 30, 2023.
South Africa on the other hand will stage the World Rugby Under 20 Championships between Saturday, June 24, and Friday, July 14.
Also Read: Shujaa's Willy Ambaka to Retire After Sydney Sevens
According to a press release issued by the Kenya Rugby Union (KRU), eight teams would feature in the championship.
"The World Rugby U20 Championship and U20 Trophy return for the first time since the pandemic with the tournaments hosted in South Africa (24 June-14 July) and Kenya (15-30 July) respectively.
"It will be the third time the tournament has been played in Africa with Zimbabwe having acted as host in 2016. Eight teams will battle over four match days at the Nyayo National Stadium," part of the statement from KRU read.
Some of the teams that are expected to square it out in the event include Samoa, Spain, Uruguay, Hong Kong, and Spain.
Two other nations from Africa and North America will be added after the completion of their regional qualifiers. 
The national side will be making its third appearance in the global showpiece having previously featured in 2009 and 2019.
Uruguay, Canada, Scotland, and the United States or a team from Africa have been grouped in Pool A. Pool B has Asian representatives in Hong Kong, Samoa, Kenya, and Spain.
Sir Bill Beaumont, the chairperson of the World Rugby, thanked the two African nations for agreeing to host the two international events. 
"Africa is a significant growth region for rugby and I would like to thank our friends in Kenya and South Africa respectively for hosting rugby's bicentenary year. 
"We look forward to seeing the 20 teams inspiring the African continent with breath-taking action," ended Beaumont.
Also Read: Humphrey Kayange Pens Heart-warming Letter to Collins Injera After Retirement