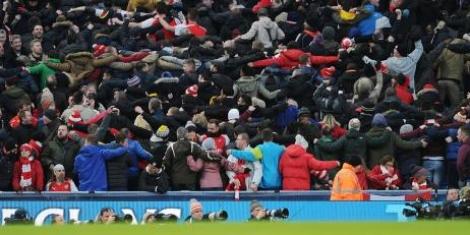 Football has over the years seen incredible celebration but one seems to have truly stood out for being quite incredible. Known as the Poznan dance, the celebration has seen football fans worldwide embrace the electric vibe it brings. 
The Poznan dance can be simply described as a bouncing, stadium-shaking dance. 
Created by the supporters of football club Lech Poznań, the dance has made the unlikely jump from the terraces to the esteemed and learned pages of the Cambridge Dictionary.
Under the letter p in the online version of the dictionary users can now find "the Poznań", although in this case it is no longer a city in western Poland but a noun defined as 'a celebration of football supporters that involves them all standing with their backs to the pitch, holding each other by the shoulder and jumping up and down together.'
The celebration has its dictionary roots in Lech Poznań's European campaign in the 2010/11 season.
The club enjoyed some success back then beating European heavyweights Juventus before pitching up in England to play Manchester City.
Although Lech went down 3-1, the match is perhaps best remembered for the Polish fans' behaviour when Poznań player Joel Tshimbamba netted his club's solitary goal.
The fans all turned their backs on the pitch and started jumping up and down, and thus 'the Poznań', at least in the eyes of English supporters, was born. 
The dance proved to be something of a hit in England coming at a time when the atmosphere at grounds had, apparently, become a bit sterile. The raucous 'the Poznań' filled a gap that needed filling.
"Shock turned to amazement, then before I knew it City fans were beginning to talk about the dance (now called 'the Poznan') via social media" wrote one Manchester City fan on a website about the club.
"For the last five years the Etihad and Wembley Stadium has seen us doing 'the Poznań', in fact the spectacle looks awesome," he continued.
"The bonding, the comradery, the whole experience brings a tear to my eye. In fact the respective stadium foundations appear to move in rhythm."
Along with being adopted by Manchester City fans 'the Poznań' has now gone global.
It was performed by supporters of both Oman and Iran at this year's Asian cup, and French fans also "poznaned" to celebrate their World Cup victory last year.