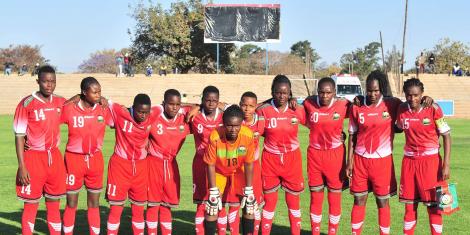 The Court of Arbitration for Sport (CAS) on June 10 revoked a decision by the Football Kenya Federation (FKF) to pull out Harambee Starlets from the African Women Cup of Nations (AWCON) qualifiers.
In a statement seen by TeamKenya.co.ke, CAS ruled that the directive issued by then FKF Chief Executive Officer (CEO), Barry Otieno, was invalid since he had been suspended by Sports Cabinet Secretary, Ambassador Amina Mohammed.
The Tribunal added that Otieno was in no capacity to act on behalf of the Federation.
"The sole arbitrator ruled that the decision rendered on January 20, 2022 by Otieno was to be set aside as it had been issued ultra vires - by a person who was no longer entitled to act on behalf of FKF," the statement read in part.
Also read: Starlets Coach Alumirah: We Are Still in The Tie
The ruling comes following an appeal filed by Harambee Starlets players protesting the decision which saw them pull out of the first qualification round of AWCON. In addition, they accused the FKF for denying them the chance to compete for the African title.
Following their withdrawal, the Confederation of African Football (CAF) qualified the Crested Cranes to the next stage. Starlets requested to have the match replayed before the group stage commences.
However, the Arbitration Court maintained that it could not issue an order to compel CAF to overturn the decision to promote the Uganda women's team for lack of jurisdiction.
"CAS did not have jurisdiction to rule on the request to order CAF to reinstate the Kenya Women's National Football team to the AWCON and to rearrange the matched against Uganda in the second qualifying round before the start of the finals group stage on July 2.
"Since no appeal has been filed against  the CAF decision to qualify Uganda to the next round, the CAS could not review it," read the statement in part.
The FKF CEO and other officials including president Nick Mwendwa were suspended by CS Mohammed on November 11, 2021, on grounds of abuse of office. She appointed a caretaker committee to run the institution on a temporary basis.
Intervening in the tussle between the Ministry and FKF, FIFA wrote to the CS asking her to reinstate Mwendwa and his team - a directive she challenged.
On February 25, the governing body suspended Kenya from all football activities citing government interference. Also suspended was Zimbabwe.