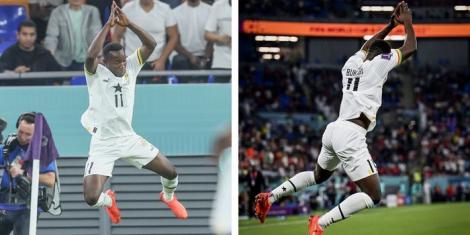 Osman Bukari defended his move of imitating the famous Cristiano Ronaldo celebration "Siuuu" after scoring against Portugal. 
Bukari pulled the famous celebration linked to the former Manchester United striker after scoring for the Black Stars in the 89th minute on Thursday, November 24, during their opening Group H match at the World Cup. 
Following the celebration, a section of people on different social media platforms accused the Ghanaian international of disrespecting Ronaldo.
Also Read: Metro Guy: Kenyan Employee Rewarded at World Cup
However, the 23-year-old insisted that he enjoyed the moment after netting his first goal at the World Cup tournament.    
"I have noticed my celebration today has generated comments claiming I was disrespectful towards Ronaldo. 
"This is incorrect. I was overcome by the emotion of the moment of scoring for my country on my World Cup debut leading to my celebration. 
"My upbringing does not permit me to be disrespectful to elders let alone one of my idols," Bukari's statement read in part.
Bukari's late goal was not enough to secure the Black Stars a win as they lost 3-2 to Portugal. Ronaldo opened the scoring through a spot kick.
Despite the loss, Ghana became the first African country to score a goal in the tournament.
Ghana will play against Korea Republic in its second match on Monday, November 28, as the team looks for its first win at the FIFA World Cup Qatar 2022.
Also Read: Boost for England Ahead of USA Clash