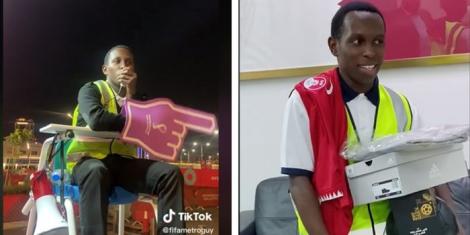 A Kenyan World Cup employee in Qatar has become an internet sensation within the football circle after he went viral at the 2022 World Cup based in Qatar. 
This is after videos were shared on various platforms of Metro Guy directing football fans to a nearby Metro Station. 
In the Tik Tok video, he dons a foam finger on his arm, while talking through a megaphone shouting "metro, metro, metro" as the crowds passed by.
Also Read: Herve Renard: Saudi Arabia Coach Who Made History in Qatar
In the video, the FIFA employee is gifted a box of shoes, a bag, a cup and a portrait by Qatar officials due to his antics. 
He was also feted by the tournament's organisers with the official Qatar national jersey. 
"For the first time in my life, I received a gift," his post read. 
While receiving the gifts, Metro guy detailed his inspiration to entertain the World Cup fans was driven by the dull nature exuded by the passers-by while trickling into the stadium. 
"People were just passing by and I thought of a way to engage them and that's why I began doing the chants," he noted.  
Other videos also emerged where fans interacted with him on numerous occasions. 
Also Read: Enrique Márquez: Meet 88-Yr-Old Journalist Who has Covered 17 FIFA World Cups