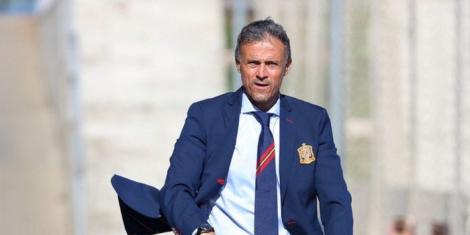 The Royal Spanish Football Federation (RFEF) has announced that the men's national team coach Luis Enrique has stepped down from his role. 
Through a statement dated December 8, the RFEF noted that Enrique and his entire coaching staff were relieved of their duty from the national team. 
Enrique took charge of the national team in 2018, after the exit of Julen Lopetegui who is now in charge of the Premier League side, Wolves.
Also Read: Gabriel Jesus Most Searched Global Personality in Kenya
"The sports management of the RFEF has transferred to the president a report in which it is determined that a new project should start for the Spanish Soccer Team, with the aim of continuing with the growth achieved in recent years thanks to the work carried out by Luis Enrique and their collaborators.  
"Both the president, Luis Rubiales, and the sports director, José Francisco Molina, have transmitted the decision to the coach," the statement read in part. 
Spain was bundled out of the FIFA World Cup Qatar 2022 by Morocco at the round of 16 stage through penalties after the match ended in a goalless draw. 
Minutes after Enrique's departure was announced the RFEF chose Luis de la Fuente as the new national team coach. 
However, the new appointee will have to wait until Monday, December 12, for the RFEF board of directors to confirm his appointment.  
It's expected that the new coach will debut in March 2023, during the Euro 2024 qualifiers with Spain facing Norway and Scotland.
Also Read: Kenyan Referee Lands World Cup Job