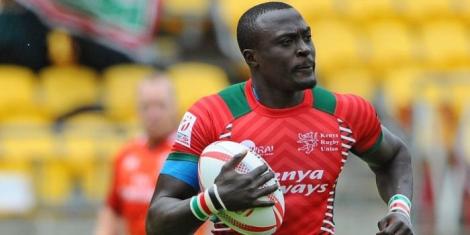 Kenyan veteran rugby player, Collins Injera, has announced his retirement from Rugby after enjoying a career spanning nearly 16 years. 
Injera, the second-highest scorer in the country with a total of 271 tries, announced that he was hanging his boots via his social media pages. 
"It's time... I enjoyed every moment," his tweet read. 
Also Read: Collins Injera Now a Farmer and Golfer
Injera made his Shujaa debut in 2006 at Dubai Sevens, a tournament he has dominated until his retirement 
Injera, in a past interview, noted that he is currently pursuing both golf and farming. 
The 35-year-old wants to continue playing golf, saying he is grasping its rules and guidelines. 
The legendary rugby player started his rugby career in division two climbing up to the highest levels in the sport. 
Injera, during his career, juggled between university and rugby where he graduated with an International Relations degree. 
One of the most celebrated moments in his career came in 2015 when he scored his 200th try in the World Sevens Series in London. 
During a celebration in Japan, Injera took out a marker pen and signed an autograph on a camera lens ruining the Ksh9.7 million camera. 
Injera has won various awards. In 2009, he was named the Kenyan Sportsman of the Year and in 2010 was awarded the Presidential Order of Golden Warriors (OGW).
However, after speaking to Injera he clarified the matter and revealed that it was a prank for April fools day.
Also Read: Meet First Kenyan to Play Pro Rugby in Japan