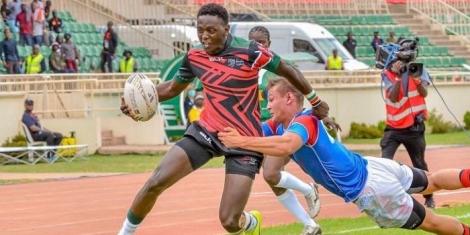 Kenya will no longer defend their title after suffering a 16-5 defeat to Namibia at the U20 Barthes Cup. 
Kenya will now take on either Zimbabwe or Madagascar in either the third or fourth playoff. 
Kenya, who are the current holders of the trophy, have exited the trophy challenge despite having the home ground advantage. 
Also Read: Nairobi Hosting Africa's Rugby Championship, How to Purchase Tickets
Namibia suffered a loss in the 2019 finals but have now had their revenge over Kenya who seemed to be the favourites. 
The match between the host and Namibia was highly physical with the Namibians leading 6-0 at the halftime break. 
Minutes into second half Namibia stretched the lead further to 13-0 thanks to Rian Grove. Kenya failed to close the gap Samuel Mwaura missed two penalty attempts. 
Kenya was able to get a consolation score as Joseph Ayiro made a try with only four minutes left for the final whistle.
On Saturday, April 9 Kenya was able to get a victory over neighbour Uganda with a 54-20 win in the quarter-finals at Nyayo National Stadium. 
The quarter-final win over Uganda secured Kenya its spot in the Semis as they hoped to defend the title. 
The rugby tournament which commenced on April 9, will come to a conclusion on April 17 with a new champion set to be crowned.
Also Read: Injera Retires from International Rugby