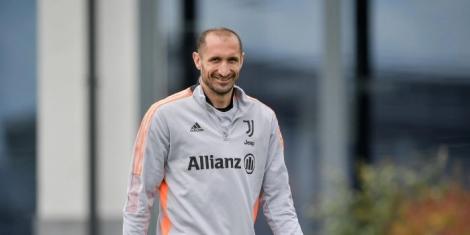 Italy and Juventus centre-back Giorgio Chiellini has announced his plan to retire from international football in June 2022. 
Chiellini reached his decision after Italy failed to qualify for the Qatar 2022 World Cup following a shocking 1-0 loss to North Macedonia. 
The 37-year-old centre-back announced his decision after his club Juventus registered a 2-1 win over Sassuolo on Monday, April 25.
Also Read: A Day in the Life of Peter Drury
"I'll say goodbye to the Nazionale at Wembley, which is where I experienced the apex of my career winning the Euros. 
"I'd like to say goodbye to the Azzurri with a nice memory. That will certainly be my last game with Italy," Chiellini stated. 
The Juventus defender made his international debut back in November 2004, in a friendly match against Finland with Italy winning 1-0. 
Chiellini who has earned 116 caps for Italy, also gave an update over his future with Juventus, noting that he will make a decision after consulting the club and his family, but after the season ends. 
"My love affair with Juventus is not ending. It will never end! The love is so strong. 
"Of course, from now to the end of the season I do have to evaluate everything and talk to my family about what is best. Let's reach fourth place first and win the Coppa Italia, then we'll sit down with my two families – at home and Juventus – to figure out what is best for everyone. 
"It was the same last summer, I took time and didn't sign the new contract until after the Euros. At my age, you can't look too far into the long-term, but that's only natural, it's all fine.  
"I hope you can see that I am happy, relaxed, and want to keep enjoying myself with my teammates, then we'll see," Chiellini noted. 
The Italian international is currently on a contract with Juventus and will expire come June 2023. 
Also Read: After Being Dropped by Man City, Pellegrini Makes History in Spain