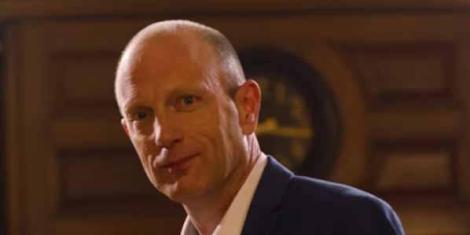 Peter Drury is undoubtedly one of the most poetic commentators in the history of football, with his voice and diction elevating moments on the pitch that transcend into a one-of-a-kind spectacle. 
Drury, who currently works for Premier League Productions for its English Premier League, FA Cup Coverage, has amassed over 30 years of experience perfecting his craft. He has also covered UEFA Champions League, UEFA Europa League, as well as the World Cup. 
The household name has provided some of the greatest tales in football history with iconic moments such as retired player Sergio Aguero's vital goal that won Manchester City the English Premier League title in 2012.
Also Read: Peter Dury Sends Special Message to Kenyan Fan After Viral Video
It's safe to say that when fans hear the name Drury, they know what to expect. 
Drury has, however, managed to live a reclusive lifestyle, with fans not knowing much about his life outside the commentary box. This leaves the fans wondering how he prepares for the glorious moments. 
In a short clip, the commentator extraordinaire gave a sneak peek on how he prepares for a high-profile match such as the League Cup semi-final between Manchester City and Liverpool. 
Before the D-day, Drury researches on the players from each team, scribbling down interesting facts and records held by either. In the case of teams that are under the radar, Drury's task is majorly to identify each player by a unique feature. 
The commentator grabs all the written notes on paper before heading to the stadium about two hours before the match begins. 
Soaking up the prodigious feeling at the stadium, Drury heads up around the pitch with his co-commentator as they discuss the details of the game. 
By this time, fans have already filled the stadium, with the match a few minutes away to commencing. Drury heads to the commentary box in order to set up and do his final preparations. 
As the match goes on, he affirmed that the commentary moments come off the fly. 
"A commentator is only as good as the moment that he is given," he stated. 
His all-round commentary has inspired football fans across the world including Kenya's own Meshack Kiprop (Arap Uria) who Drury acknowledged for his spot-on impersonations.