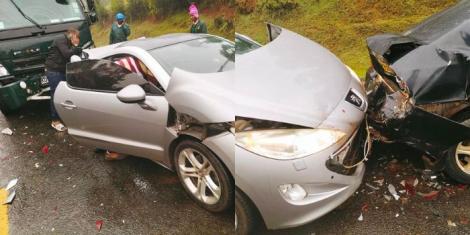 Former Harambee Stars striker, Boniface Ambani, says he had anticipated an accident just hours before being involved in a grisly road cranage along the busy Nairobi - Nakuru highway.
The former AFC Leopard skipper noted that he saw the accident way before it happened.
"Have you ever seen or just anticipated an accident? I saw it coming and braced for the eventualities. I just went silent," he stated.
Also Read: Ex Harambee Stars Striker Escapes Grisly Road Accident 
The former national team striker noted that he left Nairobi at 6:30am and was heading to RVIST Nakuru for a 10am appointment.
He highlighted that during his journey, he noticed a certain lorry being driven carelessly between Limuru to Kijabe.
"Then something hit me how the driver was carelessly driving, wanting to overtake on those blind bends from Limuru to Kijabe. I kept my cool, just wondering how this guy was risking the lives of oncoming vehicles, others hooting, others flashing headlights, just to warn him, etc. He managed to overtake a certain lorry and off he went," Ambani highlighted.
Ambani noted that eventually he caught up with the truck and overtook it and was caught up in a traffic snarl up in Kijabe owing to the bad weather and poor visibility in the area.
"Just after Kijabe junction, I saw a sports car behind me, and in front of me there was a SUV with several cars upfront. There was a snarl-up, coz it was quite foggy and drizzling and everyone was driving slowly. You could hardly see 20 meters ahead of you.
"In a flash, I thought this is in a movie or what. I saw that lorry, coming at full speed, I thought I was dreaming. I just braced myself for the worst. I just said Jesus, and I now remained focused on the car ahead of me because there was no way that lorry could stop at that speed. Within seconds, the bang. God... Glasses are scattered everywhere... Reality sunk in me. This was an accident. I tried to exit from my side, but the door was jammed. I left through the passengers' door," Ambani added.
The retired footballer noted that the impact was enormous and was worried about the car behind him prompting him to go check on the occupants.
"My worry went straight to the car behind me. The impact was enormous. I hit the vehicle in front of me. I just walked straight to check on the guys behind. Thank God, they were all safe minus the shock, with a few bruises."
Ambani added that upon confronting the truck driver, he remained calm unlike other motorists.
"What shocked me is, him treating it as just normal… Like it's just normal to cause an accident... really?" Ambani wondered.
The legendary football player advised road users to be cautious when on the roads.
Also Read: Gor Mahia to Return to Kasarani Stadium After 2 month Ban