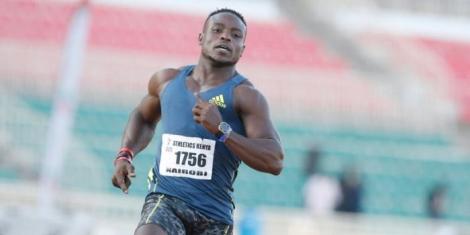 African 100-meter race record holder and sprinter Ferdinarnd Omanyala has broken the norm of Kenyan success in long-distance athletics and set a new frontier.
With no Kenyan yet to match his stunning success in the short-distance races, he hopes more countrymen come up and shine in the short races.
After his latest exploits on Saturday, May 7 at the Moi International Sports Center-Kasarani, Omanyala revealed the secret to his success as his wife (also a sprinter), trainer, and coach as well as what he eats.
Also Read: Italy's Fastest Man Salutes Omanyala
The University of Nairobi Chemistry student admits to eating two kilograms of food per meal.
"On a typical day I don't take much breakfast I don't know why but I take a good amount of food for lunch and supper- say three plates of rice" he laughed as he revealed.
Many people assume his success has been achieved effortlessly and think that people are born fast.
However away from the public glare, Omanyala spends hours in the gym for rigorous training which though intense, he has to commit to.
Omanyala, who until 2016 was a rugby player, shifted to short races, has already put Kenya on the global map.
In 2017, he suffered a major setback when he failed a drug test owing to the medication he was taking following a back injury. This saw him take a seventeen-months break.
When he was preparing to participate in the 2020 Olympic Games, Covid-19 happened leading to the suspension of all sporting events. 
During the Tokyo Olympic Games in 2021, he made history by putting Kenya on the global map for the 100 km race.
Omanyala the African record holder for 100 meters after the Kip Keino classic is yet to achieve the ultimate African champion status.
To achieve the coveted African champion title he has to win the 100m, 200m, and 4x1 races in Mauritius which is his current goal.
Eliud Kipchoge the record-holding long-distance marathon runner likes a plate of ugali accompanied by eggs and managu (traditional Kenyan vegetables) with fruits being his favorite snacks.