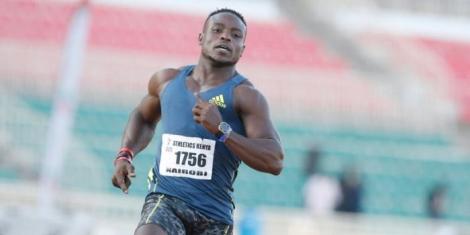 Olympic 100 metres champion Lamont Marcell Jacobs arrived in Kenya on Wednesday, May 4, ahead of the Kip Keino Classic. 
The Olympic gold medalist was quick to acknowledge Kenyan sprinter Ferdinand Omanyala and his recent achievements.
"I read about his sentiments and I know anything is possible. I like such challenges because they are good for the race.
Also Read: Omanyala Promise to Fans as He Faces Titans at Kip Keino Classic
"I met him once in 60m at the World Indoor Tour in February but Omanyala prefers the 100m. I look forward to race against him again. I can't wait," Jacobs noted.
On February 17, Jacobs won with a time of 6.50 seconds at Meeting Hauts-de France Pas-de-Calais in Levine, France in the 60m race as Omanyala finished fourth in 6.57 seconds.
Omanyala on Wednesday, May 4, noted that he does not feel any threat from the athletes he will be facing at the Kip Keino Classic.
"I am not looking at my competitors because everybody in that field is a strong competitor so I do not see anyone as a threat.
"I will just go there to have fun and just run a best of our best times so," Omanyala stated.
Jacobs noted that the Kip Keino Classic will be his first time running in Africa.
In the second edition of the Kip Keino Classic, American Trayvon Bromell won the 100m race in 9.76 as Omanyala settled second in 9.77 setting a new African record.
Also Read: Ezekiel Kemboi is My Favourite Athlete- Fraser-Pryce