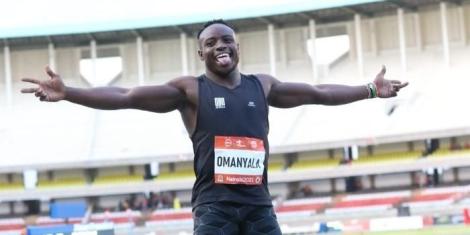 On May 7, Kenya will be hosting the third edition of the Kip Keino Classic at the Moi International Sports Centre.
Speaking to TeamKenya.co.ke, Ferdinand Omanyala noted that he did not perceive any of the athletes as a threat in the coming event.
Omanyala, who is the fastest man in Africa, is set to battle it out with Olympic medalist Marcel Jacobs (gold) and Fred Kerley (silver).
Also Read: Kenyan Athlete Who Sold Charcoal, Now Thriving as a Romanian Citizen
The sprinter noted that when going to competitions he does not view other athletes as threats rather he focuses on the goals he has set.
"When I go into competitions I do not look at my competitors as threats, I focus on the goals that I have already set and what I want to achieve.
"I am not looking at my competitors because everybody in that field is a strong competitor so I do not see anyone as a threat. I will just go there to have fun and just run a best of our best times so," Omanyala stated.
Omanyala was quick to point out that in the upcoming Kip Keino Classic he doubts if there is any threat to him.
"The Kip Keino classic is preparation toward the big games coming in July the Oregon games and the World Championship.
"It is a good thing because we are having better competitors this time and we are having the Olympic champion coming in so it is a good competition," he added.
Omanyala also highlighted his target at the classic which is setting a new African record in the 100m race.
"People should expect a very good race a very fast one and for me, I am going to win this one and I am looking forward to running a very fast time if it is not a world-leading time then it's an African record and a national record as well.
"We are happy that the fans are coming in the stadium this the round and we hope that they come out in large numbers to come to watch us run because I do not know if this is an opportunity that will ever come back again," Omanyala highlighted.
Also Read: IEBC Clears David Rudisha to Run as Independent Candidate