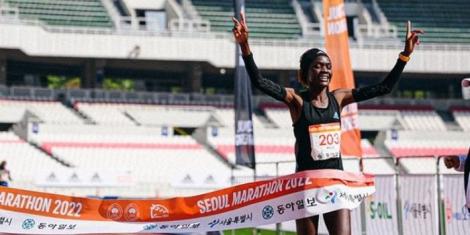 Kenya is commonly known for producing elite long-distance runners over the years with some seeking to represent other nations.
However, some of these renowned athletes come from humble backgrounds going on to make name for themselves and the country.
Joan Chelimo was born in a poor family in Kenya but changed citizenship to Romania in 2018 where she has since found success.
Also Read: IEBC Clears David Rudisha to Run as Independent Candidate
Speaking to an international media house, the athlete noted that while in Kenya she was unable to afford funds to attend the training camp in Kaptagat.
Chelimo noted that she used to train at Kaptagat camp however due to the inability to afford the Ksh11,583 a month bill needed to live on campus. 
She noted that she resorted to selling charcoal door to door earning Ksh100 a day.
Chelimo has had the chance to take part in the 2022 Seoul Marathon on April 17. The 32-year-old athlete was able to win the marathon with a time of 2:18:04.
After switching her allegiance, the athlete was put on a waiting list and on July 23, 2024, she will start representing Romania in international competitions.
"This result gives me a lot of confidence in the future. At the moment I have no limits in my mind, I think I can do anything, and that is essential," Chelimo noted.
She also added that in recent months, she has been having very tough training programs averaging 40km runs daily.
"I lived like a monk. All I did was train, eat and sleep. It's hard to imagine, but I had to focus exclusively on training. Now I need fresh air and to do something other than sports. I want to drink a glass of good wine, swim, eat chocolate and ice cream, watch some good movies and enjoy a little time with my family," Chelimo added.
Also Read: African Company Secures Deal to Sponsor Crystal Palace