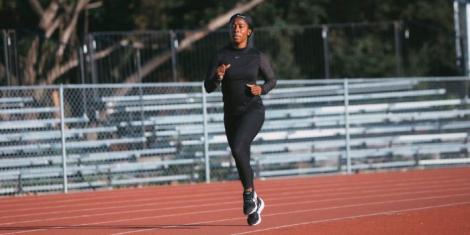 Four-time Olympic champion Shelly Ann Fraser-Pryce jetted into the country on Wednesday, May 4, ahead of the Kip Keino Classic.
The Jamaican athlete was excited to be in the country, this being her first time to visit Kenya. Speaking to the press, the 35-year-old sprinter revealed that Ezekiel Kemboi is her favourite athlete.
The sprinter says she is always happy to see the legendary 3000m steeplechase athlete excited while taking part in a race.
Also Read: Omanyala Promise to Fans as He Faces Titans at Kip Keino Classic
"I also like the steeplechaser (Ezekiel Kemboi). He is my favorite athlete because of his excitement when he competes in a race. I love the fact that he is always dancing, he is always happy and I think for us athletes it is super tense every time we step on the track to race so when we are able to cross the line and enjoy the moment it is definitely fulfilling,"Fraser stated.
Fraser further noted that she has had stories about Kenya having 42 tribes with the Maasai being the one she is aware of the most.
"Well, I know about the Maasai tribe. I heard earlier you guys have 42 different tribes, so far I am having a fantastic time and the greeting was wonderful. I am looking forward to the Kenyan hospitality," Fraser noted.
Fraser who won silver at the Tokyo Olympics in the 100m race noted that she opted to start off her season in Kenya hoping that the atmosphere enables her to run a personal best.
"I am just looking forward to executing a good race and hopefully have some fast times. I can't say the exact time but I do know it is going to be a good race, I am really looking forward to it especially since last year a lot of guys came down here at the end of the season they came over here and had some fantastic times.
"So I am hoping to get that Kenyan time where the breeze cooperates and the atmosphere is right and the energy is good so I am looking forward to participating in the 100," Fraser added.
Some of the elite athletes who will be balloting with Fraser in the 100m race include American sprinter Sha'Carri Richardson and the Namibian sprint duo of Beatrice Masilingi and Christine Mboma.
The Kip Keino Classic is scheduled to take place on May 7, at the Moi International Sports Centre.
Also Read: Kenyan Athlete Who Sold Charcoal, Now Thriving as a Romanian Citizen