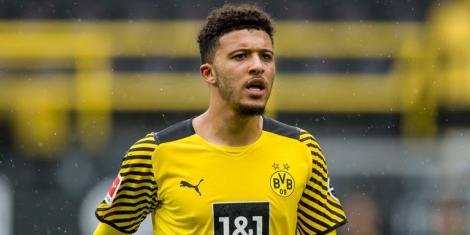 Transfers are common in football as players seek a change in their football careers and clubs flex financial muscles.
With many of the German league players shifting to the coveted Premier League as an upscale in their careers, million-dollar transfers have become a subject of discussion, including 'Bundesliga Tax'.
After the latest Bundesliga transfer involving Borussia Dortmund's Erling Haaland to Manchester City, Teamkenya.co.ke takes a look at 8 recent million-dollar transfers to the Premier League.
Also Read: Arsenal's Champions League Hopes Sink After Heavy Loss
The record transfer in the history of football was set by the transfer of Neymar from Barcelona to Paris Saint-Germain, PSG, for €222 million in August 2017 and remains unbroken by Bundesliga.
1. Jadon Sancho's - €85 million
On July 1, 2021, Borussia Dortmund reached an agreement for the transfer of English winger Jadon Sancho to Manchester United, for 85 million Euros. Manchester United had for a long time courted Sancho and followed through until they signed the player on a five-year contract to Old Trafford and parted with 85 million Euros making it the most costly  Bundesliga transfer in recent times.
2.  Kai Havertz t- €80 million
German national and Sanchos's agemate Kai Havertz joined Chelsea from Bayer Leverkusen for €80 million after signing a five-year deal in the summer of 2020. The attacking midfielder scored the defining goals that won Chelsa their second UEFA Champions League making him an invaluable asset to the Blues.
3. Kevin De Bruyne-€76 million
The Belgian signed a six-year deal with Manchester City in the summer of 2015. De Bruyne quit Wolfsburg for a record fee of  €76 million, making him the second most expensive Bundesliga transfer in British history as of 2015 after Ángel Di María's move to Manchester United in 2014.
4. Christain Pulisic and Pierre Emerick-€64 million
The American attacking midfielder Christian Pulisic made €64 million transfer from Borussia Dortmund to Stamford Bridge in January 2019 but was loaned back to Dortmund for the remainder of 2018. The 23-year-old currently plays for Chelsea and the US national team.
Pulisic's Gabonese counterpart Pierre Emerick- Aubameyang is the joined Arsenal from the same German side as him for €64 million- in January 2017/18 season transfer window making the 32-year-old striker tie with Pulisic's 2019 summer transfer.
5. Erlin Haaland- €60 million 
The latest Bundesliga transfer makes it fifth to the list with the May 2022 signing of Erlin Haaland from Borussia Dortmund to Manchester City. The 22-year-old Norwegian joined the Cityzens in the 2022 summer transfer window for a €60 million transfer fee.
6. Timo Werner €53 million 
The transfer of Timo Werner from RB Leipzig to Chelsea was finalized in June 2020. The 24-year-old signed a contract until 2025 with the Blues for €53 million. 
7. Sebastian Haller €50 million
West Ham completed the signing of 27-year-old French forward Sebastian Haller, from Eintracht Frankfurt for a fee of €50 million in the summer of 2019. 
8  Joelinton Cássio €44 million
The 25-year-old Brazillian forward joined the Magpies from Bundesliga side Hoffenheim where he scored 11 goals and registered nine assists in all German matches of the 2018/2019 season which alerted Newcastle to his impeccable talent.