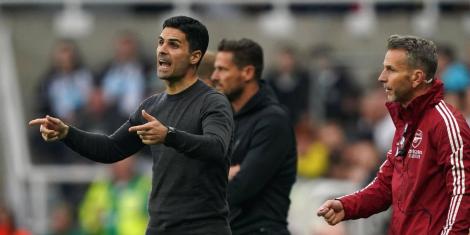 Arsenal's hopes of qualifying for the Champions League suffered a huge blow after a humiliating 2-0 defeat to an upbeat Newcastle at St James' Park.
The Gunners expected win combined with another three points at home to Everton on the Premier League's final day on Sunday, would have guaranteed their return to the Champion's League for the first time since the 2016/17 season.
Newcastle now moves up to the 12th position after Ben White's second-half goal and Bruno Guimare's final strike in the game. Eddie Howe's men have 46 points with one match left against Burnely.
Also Read: Etihad Unveils Monumental Statue in Honour on Aguero
Arsenal's loss also means that Chelsea who are four points ahead of the Gunners will finish in the top four for the sixth season in a row.
It has been a frustrating final turnaround for the Gunners, who this time last week were steadily in the fourth position with a four-point lead over Spurs with just three matches left to play.
Mikel Arteta had expressed confidence in winning until the unfortunate 3-0 loss happened and declined to comment saying he would be suspended if he commented on how unfair the match was.
After the loss, Arteta has admitted that the Gunners did not play as per their level.
"Newcastle deserved to win the match and were much better than us," he commented.
"We had nothing in the game. They were much better in every department and we were poor with the ball. A lot of things happened during the game, like substitutions for injuries, but it's not an excuse because they were much better than us," Arteta added taking responsibility for his team's defeat.
Now in the 5th position with 66 points the Arteta boys could not have asked for a better competitor given they have always beaten Newcastle in the past 7 premier league matches.
Arsenal hopes now lie in beating  Frank Lampard's Everton on the weekend and keep their fingers crossed that Tottenham lose to Norwich City, given their North London rivals (Tottenham) are two points ahead at 68 points and have a far superior goal difference.
"I am incredibly disappointed. It's a very painful one. It was in our hands and now it's not in our hands. We have to beat Everton and wait for Norwich to beat Spurs. There's always a tiny chance in football." stated the disappointed Gunners Manager