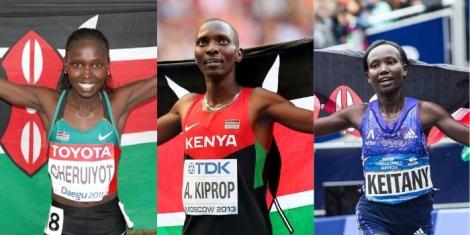 Kenyan athletes put a shift to ensure they stay physically fit and ahead of the curve. The techniques applied have bore results with a majority sealing their names in the game's history. 
Achieving feats like world records, personal and seasonal bests demands more than physical fitness, but discipline and dedication.
Kenyan athletes have a unique culture that sets them apart from their international rivals, particularly European ones. This uniqueness can be seen from the type of food they eat, and how they conduct themselves in training and society.
Also Read: DP Ruto's Plan For Sports in Kenya
A normal day for a serious Kenyan athlete begins at 5am and ends at 9pm. During the day, they get a one-hour nap before hanging out with their teammates at their respective training camps.
Most of them spend several days without seeing their loved ones. In a recent interview with the World Athletics, New York City marathon reigning champion Geoffrey Kamworor gave an insight into their preparations. 
"When you are at the camp, your sole focus is on running and you are not distracted by anything else. You are away from your family, your wife and your kids during the whole week, and that makes you take your training very seriously as you are making sacrifices to achieve your goals.
"That's the only way to be focused 100% on running and to give your very best." Kamworor told World Athletics in January this year.
Kenyan athletes also eat five meals a day that must contain ugali, beans, green indigenous vegetables, green grams, eggs, fruits or fermented milk (mursik). 
They also consume fresh, unprocessed, local foods which help to keep them healthy and in shape. Most of them rarely eat fancy foods like pizza and fries.
Among the Kalenjin community, Mursik is a special drink that is usually served during special occasions such as birthdays and wedding ceremonies.