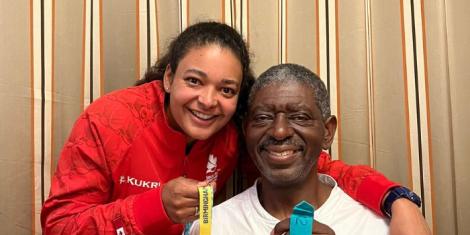 Coincidence! Canadian athlete Jillian Weir won a bronze medal at the 2022 Commonwealth Games that are underway in Birmingham, 20 years after his father Robert Boyd Weir accomplished the same fete. 
Weir finished second in the women's hammer throw behind compatriot Camryn Rogers and New Zealand international Julia Ratcliffe.
An excited Jillian took to social media to announce the news.
"My dad, Robert Weir, won a bronze medal at the 2002 Commonwealth Games in Manchester, England and now 20 years later I have won a bronze medal at the 2022 Commonwealth Games in Birmingham, England," read her Twitter statement.
Also Read: Commonwealth Games: Blunder Denies Kenya Chance to Shine in 4x100m relay
Camryn who won a silver medal during the 2022 World Athletics Championships held in Oregon, United States covered a distance of 74.08m with Weir managing to register a throw of 67.35m.
Speaking after  the historic performance, Jillian stated that although she could have done much better, she was happy with the third place finish.
"I am pleased to get on the podium. I think the throws could have been better but at the end of the day it doesn't matter, we were going for a medal. We're just rallying around each other.
Also Read: Teenager Jackline Chepkoech Sets New Record in Birmingham, Bags Kenya's Second Gold
"To have a gold, silver and bronze amongst the men's and women's hammer in Canada is a big deal," she was quoted by Athletics Canada.
His father Robert Weir used to compete in discus and hammer throw during his playing days. He won a discus bronze medal for Great Britain during the 2002 Club Games staged in Manchester, United Kingdom after throwing a distance of 59.24m.
In total, Robert won four Commonwealth Games medals between 1982 and 2002. He bagged two consecutive gold medals at both the 1982 Brisbane (Hammer) and 1998 Kuala Lumpur Games (discus) editions before clinching a bronze medal at the 1994 Games held in Victoria, Canada.  
Robert, was also born in Birmingham, the same city where Jillian won the bronze medal.
Also Read: Kenya Continues Dominance in 3000M Steeple Chase After Bagging Gold in Birmingham