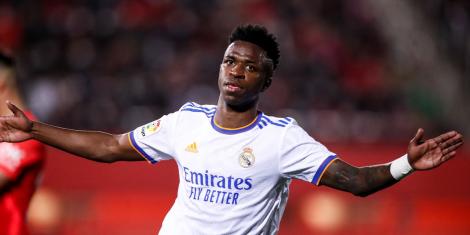 Real Madrid has condemned racist comments made towards its forward Vinicius Junior for his goal celebration. 
On Friday, September 16, Pedro Bravo, a football agent while on a Spanish football show stated that Vinicius was disrespecting opponents with his dance celebrations. He later compared his behaviour to that of a wild animal, sparking a debate online. 
In a statement, Real Madrid noted that it would take legal action against any person accused of attacking Vinicius. 
Also Read: Jadon Sancho Honours and Dedicates Goal to Young Fan
"Real Madrid C. F. condemns all types of racist and xenophobic language and behaviour in football, sport and life in general, such as the regrettable and unfortunate comments made against our player Vinicius Junior in the last few hours.
 
"Real Madrid would like to express its affection and support for Vinicius Junior, a player who regards football as an attitude towards life through joy, respect and sportsmanship. Football is the most global sport there is and should be a model of values and coexistence.
 
"The club has directed its legal services to take legal action against anyone who makes racist remarks towards our players," Real Madrid's statement read.
Vinicius also replied through a video where he noted he would not be coerced into changing his celebration style. 
"My desire to win, my smile and the sparkle in my eyes are much bigger than that. You can't even imagine it. I was a victim of a xenophobic and racist comment. But none of that started yesterday.
"Weeks ago, they began to criminalize my dances. Dances that are not mine. They belong to Ronaldinho, Neymar, Paqueta, Griezmann, Joao Felix, Matheus Cunha. They belong to Brazilian funk and samba artists, reggaeton singers, and black Americans. Those are dances to celebrate the cultural diversity of the world. Accept it, respect it. I'm not going to stop," Vinicius stated. 
Also Read: Ancelotti on Why He Is Likely to Retire Because of Real Madrid Star
Bravo, through his Twitter account clarified that he used the wild animal expression as a metaphor for Vinicius' celebration. 
"I want to clarify that the expression was done metaphorically. Since my intention was not to offend anyone, I sincerely apologise. I am sorry!" He reached out to Vinicius. 
Some of the greatest Brazil football legends and the current players also defended the Real Madrid player. 
"Football is joy. It is dancing. It is truly a party. Despite the fact that racism still exists, we will not allow it to stop us from continuing to smile and we will continue to fight racism in this way, fighting for the right to be happy," Pele noted. 
PSG forward Neymar, through a post on social media, encouraged his compatriot to continue with celebration after scoring. 
Real Madrid head coach Carlos Ancelotti added that Vinicius was a good dancer. 
"He doesn't need to change anything regarding his attitude because he respects his rivals and the referee a lot. He is a special player because of how he plays, although at times, because of his way of playing, rivals might get angry," Ancelotti weighed in on the debate. 
 Real Madrid will face Atletico Madrid on Sunday, September 18, in the Madrid derby. 
Also Read: Beckham Spends 12 Hrs on Queue to Honour Queen Elizabeth