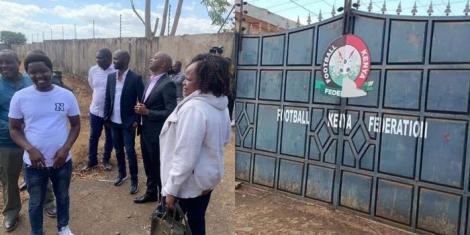 Nick Mwendwa resumed his duties as the Football Kenya Federation (FKF) president after his offices that were closed for nearly a year were reopened. 
The president, who is set to address the media, was accompanied by police officers who secured the premises. 
Photos of the FKF president shared online depicted him opening the gates of the offices located in Kasarani, near the Kasarani Stadium in Nairobi. 
Also Read: Nick Mwendwa Announces Resumption of Football Activities
He was accompanied by FKF CEO Barry Otieno and other staff who were kicked out of the office. 
His resumption of office was one of the conditions FIFA set prior to lifting the ban it imposed on Kenya. 
On Thursday, September 8, he wrote to FIFA President Gianni Infantino, assuring him that he had resumed his role as the head of Kenya's football body.
Mwendwa explained that the office Directorate of Criminal Investigation (DCI) withdrew charges levelled against him. The Ministry of Sports under Ambassador Amina Mohamed had accused him of misuse of power and embezzlement of funds. 
"Reference is made to my letter dated November 29, 2021, with regard to the interim transfer of my powers and responsibilities as FKF President to the FKF Vice President.
"In this regard, following the withdrawal of charges by the Directorate of Public Prosecution on July 8, 2022, I hereby wish to inform your good office that I have resumed my duties as the FKF president, with immediate effect, in accordance with Article 42 of the FKF constitution (2017)," Mwendwa updated FIFA.
He also assured the nation that sports activities will resume in a month's time. 
However, the FKF transition committee countered indicating that it was still in power. 
In a letter dated, Monday, September 19, the head of the secretariat, Lindah Oguttu, directed sports activities to resume on October 1. 
More to follow...