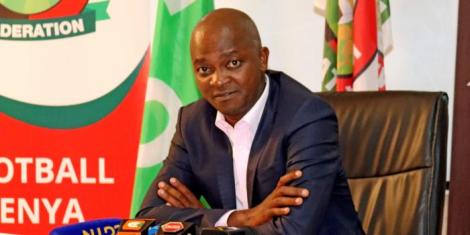 Ousted FKF President Nick Mwendwa has announced that football activities including all leagues will resume in a month's time. 
The outgoing Football Kenya Federation (FKF) Transition Committee had announced that the 2022/23 FKF Premier League season would commence on September 24. 
Also Read: Oliech's Advice to Upcoming Football Stars Dreaming of Playing in Europe
"FIFA, CAF, Harambee stars, Harambee starlets, The Premier League, All Leagues, grassroots football, Coaches, Referees and all officials.  
"Get ready for pre-season action. Tomorrow (September 10, 2022) onward train hard, in one month or so the season will be back," Nick Mwendwa's post read. 
Nick Mwendwa has made a comeback as the President of the Football Kenya Federation (FKF) after he was kicked out of office following a directive by Sports Cabinet Secretary Amina Mohamed who ordered investigations into the federation's finances.  
His directive comes a few days after Mwendwa, through a letter, informed FIFA president Gianni Infantino that he had resumed his role as the head of Kenya's football body on September 8. 
In the letter, Mwendwa noted that the office Directorate of Criminal Investigation (DCI) had withdrawn charges levelled against him.  
The FKF Transition Committee's tenure is expected to end with the coming of the new administration.
Also Read: National Champions Ebwali Plead for Financial Help