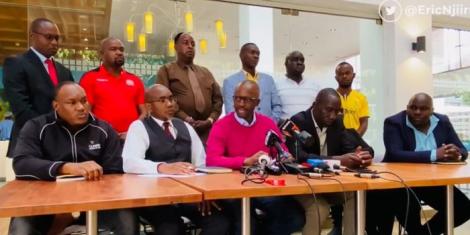 A section of Kenya Premier League clubs met on Wednesday, September 21, where they discussed the current stand between the government and the Football Kenya Federation (FKF)  
The purpose of the meeting was to deliberate the status of football in the country and the stand of the top flight teams as they anticipate the resumption of football in the country in line with the directives issued by FIFA. 
In the meeting, the 18 clubs declined to participate in a league managed by the FKF Transition Committee.
Also Read: CS Amina Responds to Nick Mwendwa's Return
"We have unanimously resolved as Kenya Premier League Clubs that we will not take part in any competition that is not recognised and sanctioned by the world governing body, FIFA. 
"What we are saying is that the 18 clubs of the Premier League have decided that we will only play in the 2022/2023 season in a properly FIFA-sanctioned league because it's the only way that our teams and our players are going to benefit," the joint statement read. 
The clubs noted that the reason for boycotting the season was that it would be a waste of investment and time. 
They also noted that clubs such as Tusker began their training after they were told that the Transition Committee was in talks with FIFA. 
"There are things that happen and you look back and say 'was that good for us?' and we are saying enough is enough. Some clubs do not have enough of that," Gor Mahia CEO, Ray Oruo noted. 
In his statement Nairobi City Stars CEO, Patrick Korir noted that the clubs were ready for the season but under a FIFA-sanctioned league. 
"We clubs have been for the next season, now the kick-off date we have been given several of dates to an extent we have no idea, by whom that's not for us to say. However, the day a FIFA-sanctioned league will give a kick-off date we will all be ready," Patrick Korir noted. 
Also Read: Premier League Postponed Again as Mwendwa, FKF Committee Wrangle Escalates