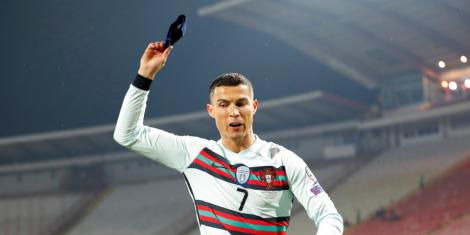 Portugal and Manchester United striker Cristiano Ronaldo has ruled out plans to retire any time soon. 
Ronaldo revealed that he would want to feature in the EURO 2024, after receiving a trophy at the Portuguese football federation's (FPF) Quinas de Ouro awards in Lisbon for being the top national team goal scorer of all time. 
"My path in the national team is not over. We have many quality youngsters. I will be at the World Cup and I want to be at the European Championship," Ronaldo stated. 
Also Read: Russia Excluded From EURO 2024
During EURO 2024 which will be in Germany, Ronaldo will be 39 years. 
In 189 games for his national team, Ronaldo has scored 117 goals. Ronaldo broke the then-record by Ali  Daei of 109 goals after scoring a brace against Ireland in September 2021. 
During the 2016 EURO that was held in France, Ronaldo was won his first major international trophy. 
Ronaldo will be making his 10th major international tournament for Portugal in the upcoming 2022 Qatar World Cup. 
The Qatar tournament could be his last appearance at the World Cup as an active footballer. 
The 37-year-old, five-time Ballon d'Or winner is currently with the Portugal squad for the international break where they will be playing in the UEFA League of Nations. 
Ronaldo is currently at Manchester United and has so far scored only one goal in the 2022/2023 campaign in the Europa League.
Also Read: FIFA Rules on Chile's Appeal Against Ecuador